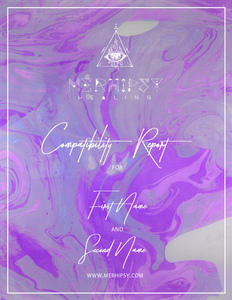 By calculating the life path numbers of each person in a relationship, Numerology Compatibility Reports can help individuals better understand the inner-workings of their dynamic with their partner in a given year. Having this insight will enable couples to more easily recognize patterns, thoughts, behaviors, and motivations for certain actions in the partnership. This can help to improve things like communication, compassion, and expression in relationships. When one understands another, it becomes more natural to love them deeply. Alternatively, this report can most directly make clear whether or not a relationship can or should work based on the life path of each person.
If you are unclear if a relationship is right for you, let this report make it crystal clear.
Your Compatibility Report gives invaluable insights into...
▲Overviews of you individually and as a couple
▲How compatible you are emotionally and sexually
▲Your ability to communicate
▲Your ability to give love and affection
▲How you deal with money
▲Your adaptability and sociability with others individually and as a couple
▲Relationships with family and friends individually and as a couple
▲What to expect in the 12 months ahead as a couple  And MORE! .