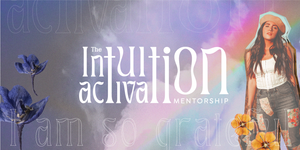 24/7 ACCESS TO ME VIA TEXT AND VOICE NOTES ON THE VOXER APP - $3200 VALUE
6 INTIMATE GROUP CALLS AND LIVE LECTURES WITH ME - $1600 VALUE
AN ASSESSMENT OF YOUR PERSONAL INTUITIVE GIFTS - $100 VALUE
A SERIES OF OVER 10 HIGH QUALITY VIDEO LECTURES - $1000 VALUE
A 30 DAY PROTOCOL - $2600 VALUE
DAILY TASKS INCLUDING A FAIRLY RIGOROUS MORNING ROUTINE AND EVENING ROUTINE - $800 VALUE
DAILY ASSIGNMENTS TO EXERCISE AND STRENGTHEN YOUR INTUITIVE MUSCLE - $500 VALUE
FACEBOOK GROUP FOR CONSTANT ACCESS TO ME AS YOUR PERSONAL GUIDE AND STEWARD - $200 VALUE
DELICIOUS CUSTOM WEEKLY RECIPES - $200 VALUE
A ROBUST WELCOME BOX CONTAINING EVERYTHING YOU'LL NEED - $600 VALUE
TOP SECRET GIFT - $100 VALUE

To pay with monthly payments as low as $70 a month. Add the Mentorship to your Cart and hit checkout. After entering your shipping information, select Affirm as your payment option!
This program is a nonrefundable and non-transferable commitment.